Designer merino sweaters for men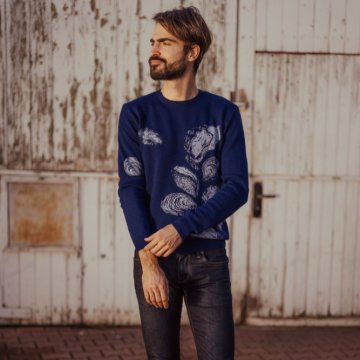 The perfect combination of style and comfort
You will be invincible in a sweater with a knitted illustration. Switch a solid color sweater for designer and allow yourself to stand out from the crowd. Don't be afraid to shine!
In addition to the style, you will also enjoy to the fullest the quality of merino wool! Thanks to its thermoregulatory abilities you will still be warm in winter and rain. And if you sweat during a demanding meeting, the sweater will not leave you with a cold back. It dries quickly and thanks to antibacterial properties stays clean for several weeks without the need for washing. Are you planning to take a sweater on a trip abroad or a domestic trip, but need it to look fresh? Seamlessly! Even if it was stored at the bottom of the backpack, a merino wool sweater is wrinkle free and you can immediately go on an adventure without lengthy ironing.
Fall in love with the designs of Czech designers
Talented Czech designers with love for nature design individual pieces for us. So you can wear their art proudly on your chest. A lot of love has been woven into the sweaters, so they are suitable as a gift for your loved ones. To couples we recommend wearing sweaters of the same design but different colors. So you can enjoy Christmas photography, walks, but also hiking in style! Transfer your outfit to new level and top it up with a hat and scarf or T-shirt.