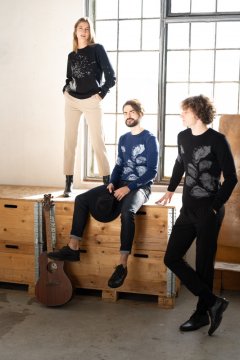 Style and functionality
Does this connection sound like an oxymoron to you? We experienced it firsthand with the company Mujkoberec.cz that the two can come together to create something unique and now you can too! We bring a limited collection of premium designer sweaters by Dana Nerudová. She connected the oyster motif, known primarily from the world of gastronomy, perfectly with art. It is only up to you to transfer it to the everyday world.
Just like when opening a shell, with a sweater on your body, you will experience moments of discovery, inspiration and in spirit you might be on vacation in Italy. Winter will definitely not be for you. Temperature changes, snow or rain? No problem, just like the oyster, the sweater will fight it. Quality merino wool stays fresh for a long time and odorless. 
Reach for the right one
Do you choose oysters on your plate based on their appearance? It will be more difficult with our sweaters, but Dana made for you 4 original designs. So you can choose the one really like. In this category you will find different color versions for women and men. If you plan to have a gift in reserve and you don't know who it's for? Choose the OYSTER unisex sweater.